15 Easy step-by-step dental patient marketing strategies to grow your practice
In order to drive revenue, client growth and word of mouth referrals, it is vital to market your practice to dental patients. Although you may already know this, you may be wondering exactly how your practice can achieve this.
With this in mind, the problem is where should you start with dental patient marketing? Furthermore, what is appropriate for your practice that will drive the right kind of patients and keep your patients happy?
1.    Social media marketing
It seems that everyone is on social media, posting images of their travels, family and pets. Imagine the number of people you know that regularly check Facebook, Instagram, twitter etc. What if you could specifically target all these people, by people already interested in dental care, existing clients and potential customers and draw them into your practice. Build your Instagram and Facebook accounts.
Following you on Facebook, your patients can receive new updates on your practice, videos, images and patient reviews not just for 6-months but all year round.
Because this gives your patients clear access to your information and contact details it makes them feel supported, encouraging referrals.
Not to mention creating groups within Facebook to keep in touch with your patients as well as linking to Instagram, YouTube videos explaining your practice and revolutionary treatments.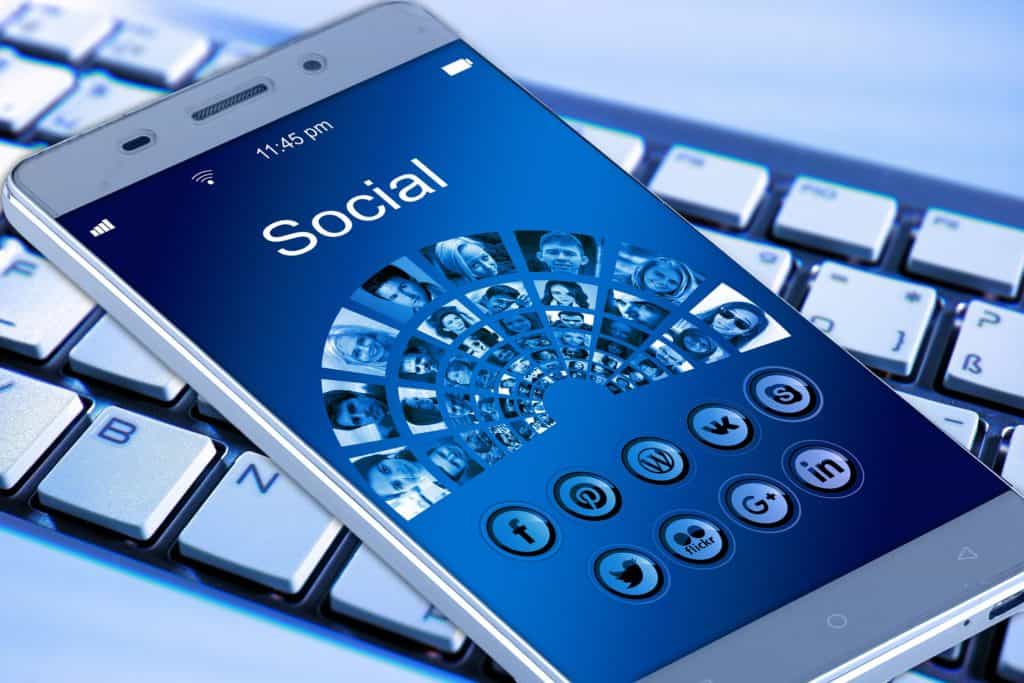 2.    Dental Facebook Ads
What are Facebook ads? Facebook ads are an excellent way to attract potential clients through dental patient marketing. You can target them in a geographical location, locally, by age, gender etc.
These ads will show up on potential customers news feeds who are very likely to want your dental services. These customers specifically targeted as clients with a high potential to convert as your new client due to targeting research.
For example, more than 90% of healthcare decisions are made by women and therefore by analysing your neighbourhood and demographics the marketing Facebook ads will likely resonate with them and their interests.
3.    Involve your patient community
Are you dealing with upscale adults, students, pensioners or families within your neighbourhood? If so then what are their interests and how to target your practice to suit their needs?
You can get involved with your local community by attending festivals, charities or teaching a dental hygiene class at a school or university. Maybe even do a sponsored 10k run, sky-diving or skiing to raise money for charity while promoting your practice.
Demonstrating and interacting with clients physically will help attract their attention as well as word of mouth referrals to the local communities.
4.     Update and optimise your Google My Business Page (GMB)
GMB (Google My Business) page is a 'niche' dental patient marketing strategy that is easy to do and will make a huge impact in drawing new clients. When you google restaurants for dinner after work and it brings up a search of the nearby results based on your location? How does it do this? Well, this is called Google's Local Pack and the information in it is pulled from various Google My Business pages.
Therefore, it is vital to add your dental practice the following:
•    Location
•    Business description
•    Phone number
•    Hours of operation
•    Review section
Just to stress how important this is to drive traffic to your website and business name, the Local Pack listing accounts for ~ 44% of clicks by Google users.
5.    Direct Mail
While this might seem outdated it is actually a great way to engage with your patients and potential clients when they subscribe to your site by emailing and postal mail. It is a great opportunity to show off your competitive prices, any discounts you have running, booking for an event such as Mother's Day they might have forgotten about.
And it has been trailed and proved! One practice found that for every 5,000 postcards they sent they received an average of 35 phone calls and 7 new patients, all at a very small effort of sending out an email/ postcard.
6.    Click to call ads
Patients and prospective patients use their mobile phone to book appointments and call the office and therefore adding click-to-call ads to your page
available through Facebook and Google Ads (on mobile, desktop and tablets) will enable easier calling for patients. Prospective patients are more likely to book with you over other practices who are without this function.
This extension can also be added to any of your existing ads or you can alternatively create call-only campaigns which will bid to drive calls to your dental practice instead of just relying on clicks to your website.
The call link will appear in searches under your dental website which patients can click on to book with your practice.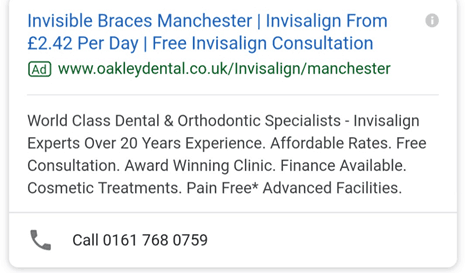 7.    New Facebook messaging add
This is a new type of dental patient marketing strategy which really focusses on engaging with your clients.
Potential patients will be able to "send a message" on Facebook messenger as a CTA (call to action) on your ads which would take the prospect to messenger, (view the image below). This is likely to initiate an immediate response and encourage consumers to take action.
Another great idea is to add a live chat to your Facebook and website to encourage customer conversation in order to better help your patients. Take it a step further and add a booking system through chat (chatbot), which makes it easier for patients who don't want to call and have to wait to speak to the receptionist for an appointment.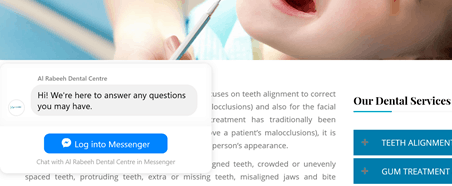 8.    Dental referral bonuses
How many films, foods, new travel destinations have you tried out because of a friend's recommendation? The Pride Institute reports that 93% of people trust recommendations from their friends.
Why not utilise this to attract a bigger clients base? Express your gratitude on referrals by giving %20 off a dental visit for every referral. You can promote this over your social media, mail, ads, Facebook messenger ads, business referral cards etc. and use the full force of all your marketing platforms to really shout out about this promotion to grab the attention of prospects and existing clients. 
9.    Video advertising
Most people would engage with a quick 60s promotional video about a potential dental practice which they may be interested than waste time reading paragraphs of text which does not look appealing and takes 4-5 minutes to read.
You can make your video entertaining, using imagery, tone and language that appeals to your target audience through their interests and demographic research. Set up your own dental practice YouTube channel.
You can leave the link to the website if they want to read further details of your practice but by this time if they have invested the 60s in watching your video and want to know more, they are likely to turn into a potential client.
Just think about it yourself, would a flashy 60s video about a potential car buy not grab your attention first? From this, if you thought you wanted to make a purchase you would then invest your time to read the nitty-gritty details about the car.   
A key point about video advertising is that it makes a personal connection to your audience. They can see what you look like, sound like, your practice ethos, images of your practice and potentially before and after images of clients that you have treated.
This can lead to trust and the urge to book an appointment with you, as they feel that they already know you.
10.    Build your dental website
Have you searched a luxury watch or fashion item with a bad website, not much detail, boring layout and decided to look up the next dealer instead? On average users form an opinion within 0.05s of the credibility of your dental practice once your dental website page has loaded.
Of course, layout and friendly images are important, but you want to make your website effortless to use. To do this consider adding the following to your website to boost your dental patient marketing:
•    Online scheduling
•    Online pay – consider using credit/debit and PayPal for ease.
•    Messaging – (live chat?)
•    Profiles for each dentist
•    Many eye-catching videos
•    Content/ blogs helping patients to learn how to keep their teeth clean and healthy
Importantly you need to ensure that these landing pages are quick to load otherwise users may disconnect from the practice website as well as making it mobile-friendly.
Being mobile-friendly is vital as 62% of people use their phone to search for health information and 82% use their phone when looking for a local treatment centre or health facility. This is also why local Facebook ads become crucial.
11.    Blog
Why not start a dental website blog? Clear up misconceptions and questions patients may have. This will make them crave more information which may lead to sign up with your practice as well as regular engagement with your blogs and possible referrals.
You can correct common misunderstandings people have or talk about current trends such as 'natural' teeth whitening.
This is a great way to post images of your treatments showcasing your results and client satisfaction. From engagement with blog posts, you can also get a clearer idea of what topics interest your client and better target them through your other marketing strategies (Facebook ads, social media marketing, emails etc).
12.    Create shareable content on social media
What are shareable social media posts? If customers can share images, blogs, YouTube videos etc. with their friends about your business this is likely to grow your client base as well as sharing it to friends of friends leading to even bigger growth.
It also makes your customers feel valued as they can express how they feel about a certain video and talk about it with their friends. This helps to grow and nourish your relationship you're your clients by making them feel involved with your practice.
Your complete Social Media Marketing guide.
70% of customers expect a company to have a social media presence and on average spend more than 2 hours per day on social media sites. You can do this simply by adding a social media bar beside your pages which will share this page if the patients clink on this.

13.    Get listed on dental sites
Ever looked at ratings of dental marketing agencies or products before you have bought them? Getting listed adds credibility to your business by enabling consumers to access ratings and reviews. 90% of consumers look at ratings online and out of these 88% trust consumer reviews as much as personal recommendations!
You can look to add your site to directories like Google, Yelp etc. but to specifically target your audience you could list your business on websites such as The Dentist Hub, Smile Guide, Every Dentist, Dentists.com
14.    Dental patient reviews
In order to gain more clients, generate revenue and credibility it is essential to have a business gleaming with reviews and great service. 72% of patients use online reviews when finding a new doctor. It is one of the first things they do!
But what should you do to get more dental reviews? You can get reviews from Google and Yelp but how to get them directly from patients? Here are a few ways:
•    Quick video testimonial if they wish
•    Ask them for a review on website/social media
•    Ask them via email
•    Sign up for a review management software (Reviews Booster) for reviews which is a quick way to get many reviews since it takes 30 seconds to fill out and more patients are likely to do this
Here is your complete Guide on Getting Patient Reviews!
15.    Optimise your blog posts and website pages for SEO
What is SEO? SEO is an acronym for search engine optimisation, and it does exactly that. It promotes the content of your website so that it has an optimal chance of being searched so it will rank your web pages higher in the search-related results for related queries.
But how exactly does Google do this? Google's search results rankings are determined by a complex algorithm which looks at your website and finds keywords and other factors in order to make sure it is best aligned with relevant search queries.
By updating keywords and targeting what clients search for, will help boost your website ranking. But how should you create an engaging dental website?
For best chances at webpage optimisation the following points are key:
•    Website speed under 3s – too slow and consumers will exit the webpage
•    Mobile friendly
•    A secure website
•    Images complete with alt-tags
•    Dental related content on pages
•    Social media links on pages
•    Content which has quality
•    Many pages of quality content
•    Lots of backlinks from authoritative websites
Conclusion on dental patient marketing
While all these ideas seem great at attracting potential clients and generating revenue, I cannot stress how important it is to actually execute these ideas in order to create a lasting impact as well as attracting the right type of clients.
If you don't have a lot of time to dedicate to marketing, I would highly suggest hiring a professional which takes the pressure off you and helps to improve your dental marketing strategy for your financial freedom, ultimately leading to you spending more time with your family and reinvesting in your business
Why not book a phone call 0330 133 0635 with us to see if we can help with your dental practice marketing? Or fill in our form.