What does SEO mean for Dentists?
A lot of people speak about SEO, but what is SEO for Dentists…? Here you will read 8 secret SEO tips that bring new patients with zero work for Dentists. SEO stands for "search engine optimization". It's the practice of increasing the quantity and quality of traffic to your website through organic search engine results.
What is the true meaning of SEO aka Search Engine Optimisation for dentists?
Quality of traffic: Thanks to Google, for instance, you can attract all the visitors in the world. But…you want to attract visitors who are really interested in your services that you offer. SO quality first!
Quantity of traffic: You want more traffic because it means for you more probability to have a new visitor on your website.
Organic results: Organic traffic is any traffic that you don't have to pay for. In other words: it's free traffic.
Dentist SEO Fundamentals
Before we get into the 8 new and free SEO tips for Dentists, you must have completed these basics:
  1 – NAP on website. NAP refers to the company name, address, and phone number. NAP is essential for businesses that want to rank well organically when a customer or potential prospect conduct a local search. If you don't include this information on your website and social media profiles, search engines will not be able to reference you correctly. Consequently, nobody can find you!
  2 – Optimize your Google business page. Google My Business complements your existing website. In fact, it gives your business a public identity and presence with a listing on Google. Don't forget this step because it's the most popular search engine in the world.
1) Choosing effective keywords
Picking the right keywords is one of the most important steps in a successful search. Increasing traffic to your site is a priority, but attracting the right audience is a necessity.
Reason like a customer: The best thing to do it's to put yourself into the shoes of a customer when you create your list of keywords. For instance, you can ask yourself "If I need to find this service or this dentist, what would I write into Google?" Likewise, you can ask your friends, family or your clients to get their opinion.
Benchmarking: Because you know your main competitors, you can easily go to their websites and see what keywords they are targeting.
Use keyword research tools: Use free tools like "Neil Patel" or "AnswerThePublic" to help you. Thanks to these tools, you can find the relevant keywords of what they are searching for in Google.
2) Using SEO keywords effectively
Now that you've found the keywords, you need to put them to work in order to get SEO results. You must use the keyword in several places including:
Page titles: firstly, optimizing page titles is part of an effective dental SEO, and is a good starting point when using keywords for SEO.
Subheadings: secondly, subheadings may help visitors decide about the relevance of content to their needs.
In the meta description: also, the next important area for the use of keywords for dental SEO is the meta description. This shows up as the second part of a search results entry.
Content: One of the most important places to optimize the use of SEO keywords in is in your content. That's because the content is one of the top dental SEO ranking factors.
In any image: First of all, images are indexed too, creating another way that people find your content.
3) Structuring your website

It is important to build a good website structure because Google wants to send its users to a great place. Your patient wants an answer to their question quickly and easily. Below you can find some actions for building a good website structure.
1 – Easy navigation: The best practice in terms of navigation is to have your website pages accessible in no more than 3 "clicks".
2 – Speed of your website: 47% of consumers expect websites to load in two seconds or less. Also, 40% will abandon a page that takes three or more seconds. It's so important today to have a speed website. Below, you can find some tips to increase your website speed.
Know your website speed. You can use tools like "Google Pagespeed insights" for intense. This tool will show you details about your website speed and what you can do to improve it.
Use a fast website host.
Compress Images and videos to reduce size.
Remove unnecessary code and plugins.
4) Find and fix broken links on your website
​You have a great website, but if your links aren't working, it could be annoying for your patients.
Broken links on your dental website can be harmful, they make for bad user experience. Moreover, they devalue your dental SEO efforts. There are a number of tools you can use to identify broken links, including "Google Analytics" and "Xenu". You can either find a replacement link for the broken on or simply remove the link altogether if you can't.
5) Requesting reviews from your patients
Because your patients know you and your business, don't hesitate to encourage them to leave reviews. You can email news patients after their first appointment for example. You can ask them to leave a review or add a notation.
6) Blogging regularly
The goal's to have more traffic thanks to your writing. It could be thanks to quality blog posts. You can find inspiration from your office staff and dental hygienists who know a lot of regular questions from your patients.
If you decide to write a blog, try to make each at least 300 words or more if possible because longer content usually ranks better. You should use pictures, cases studies…
7) Be active on forums and blogs
Off-site dental SEO is all about building an authoritative web presence. One of the best ways to do that is to find methods of associating your name with authority names in the dental industry.
Follow influential medical and dental blogs! Also, sign up for forums where people talk about dental care. Then leave thoughtful and informative comments on them. You can also ask to be added in Special Facebook Group, it's always a good idea!
8) Measuring the result of SEO on your website
One last thing, if you have done all of these key elements, it's important to see if you're getting your intended results. Have you seen an increase in your organic visibility or traffic?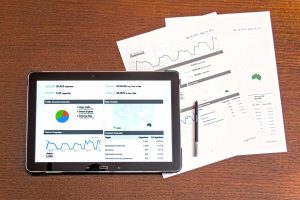 Generally, it will take months before you start to see considerable results. You should track these metrics (below) after a month or a few months:
1 – Check your visibility
Even though you might be getting no traffic yet from search engines, you can check the number of keywords your website is ranking for. If you are interested, you can find further information by following this link: check your visibility
2 – Check your organic traffic
You can also check the number of visitors coming to your website through search engines. To do this, go to the audience under Google Analytics. Click on "+ Add Segment" and add organic segment. This will show you the number of visitors coming to your website through search engines.
3 – Check organic traffic to valuable pages
You want visitors to your website to visit valuable pages where they can find information to contact your practice. Therefore, you should check where visitors are landing on your website. To do this, go to Behavior > Site Content > Landing Pages on Google Analytics. Add organic segment and you'll see pages where your visitors land.
Conclusion & next step
To sum-up, all of these 8 secret SEO tips that bring new patients with zero work for Dentists are relevant and effective. It takes time to do everything properly and we know how is difficult to take time for marketing. So, if you need any help for growing your dental SEO knowledge, you can find free further information about how to get found on Google.
You can also book a FREE phone call with us or call directly at 0330 133 0635, we will speak about your business and your needs in a friendly way.