As part of your dental marketing campaigns, dental social media campaigns are usually overlooked. The value of social proof and providing great content is a vital part of your marketing campaigns. The essence of dental social media campaigns is to build a relationship between you and your patients while attracting new patients through your content and engagements.
We are living in a time where your audience is constantly on their phones. Either on Facebook, Instagram, YouTube or even reading an article that they received from a family or friend.
In this article, you will learn how to highly attract, retain and eventually market to your target audience through proven dental social media campaigns.
1) User-Generated Content
92 Percent of consumers around the world say they trust recommendations from family and friends, above all other forms of advertising. Visiting the dentist could be daunting. Especially if they had a bad experience or have not been in a long time.
User-generated content will erase these daunting feelings. When you upload happy patients photo's that they took and tagged you on their Facebook post or mentioning their experience your dental practice provided. Consistently posting user-generated content will attract new patients. It will show that your dental practice is fun and undaunting.
Video testimonials are also another great piece of content that will highly convert and attract new patients. Videos trigger emotion and once you have connected emotionally with your audience, the next step for them will be to simply book an appointment with your dental practice. People prefer to watch a video rather than reading about a service or product. They also love to share it.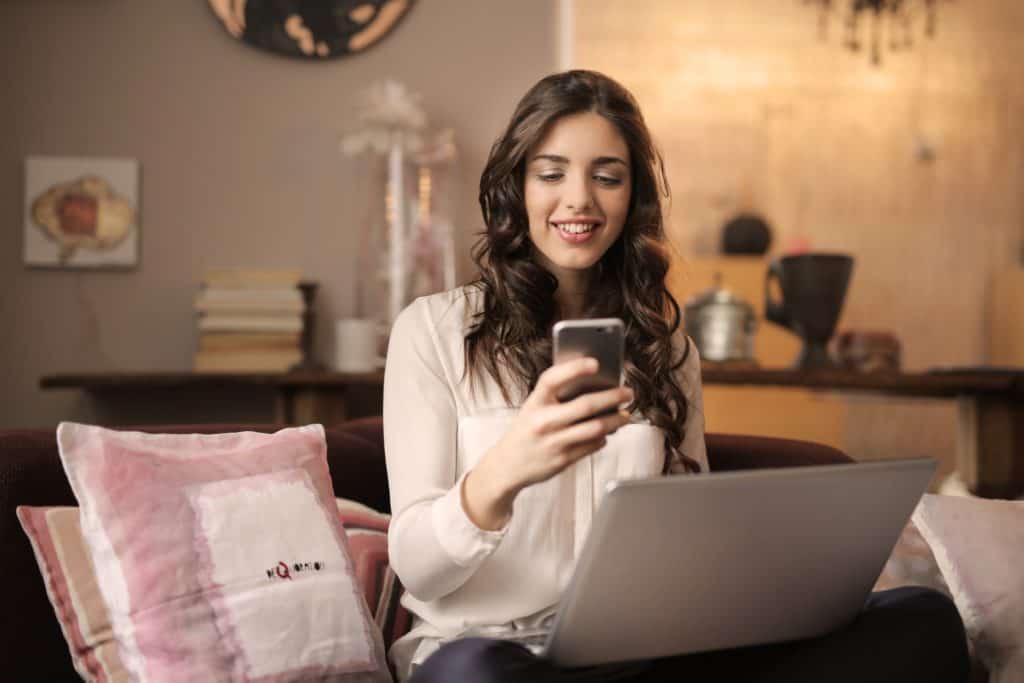 So for your next dental social media campaign, invest and create user-generated content and video testimonials. Post them on your Facebook page daily. Also, have a page on your website for testimonials and drive traffic towards it through Facebook, Instagram or Twitter.
2) Influence Marketing
As social media becomes a more integrated part of our lives, influence marketing has exploded. As soon as we go on to any of our social platforms, we can not miss a single post from any of the thousands of influencers out there. 70 Percent of teens trust influencers more than their friends and when it comes to influencer marketing. Over half of women made purchases due to influencer posts with Facebook and Instagram being the preferred platforms.
To make your dental practice unique and stand out from the crowd, consider using an influencer for your dental social media campaign.
Choosing the right influencer for your practice will target your audience and by gathering local influencers to help spread your message. Contacting them and proposing a formal compensation.
Then supply them with the specific content or a message to share with their network in a fixed way, frequency and time frame. Focus on what makes your practice special and be sure to consider the right tone and message for sharing with their network. They can make content for your Facebook page, mention your dental practice and the great service you provide on their blog post or YouTube video.
For example, Invisalign UK has teamed up with several TV and sports personalities as well as social influencers, beauty bloggers and vloggers in order to promote the system. Offering free of charge teeth whitening or even a discount on a key treatment, for example, can enable you to promote via a social influencer.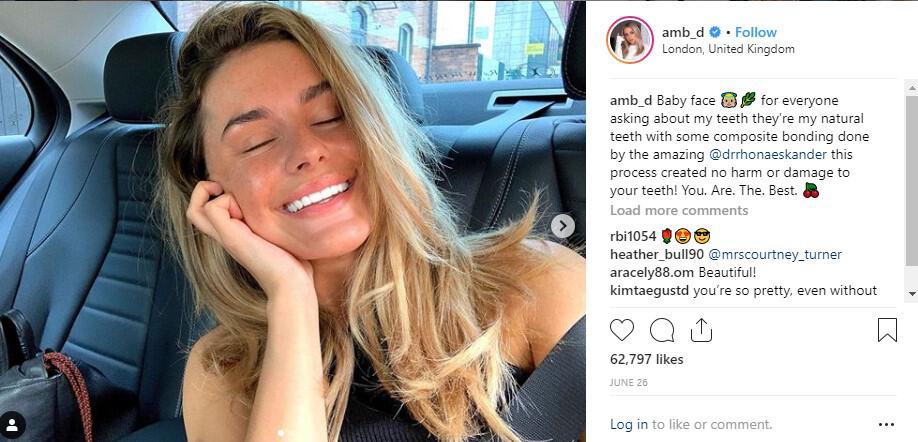 3) Competitions and Giveaways
The way to get more patients and get your dental practice out there, constructing a highly engaging dental social media campaign is necessary. To acquire that, running social media competitions or giveaways is the best form of engagement. This excites and engages your existing patients also your potential patients.
This competition could be tailored to your own needs and will get your patients to interact with your dental social media and also create a bond with your dental practice.
There are many competitions you could run on your dental social media. For example, the best smile photo after an appointment, video on brushing teeth and randomly choose a winner. As an added bonus for running a competition or giveaway, you will receive awesome user-generated content. The importance of user-generated content is mentioned above.
The photos, videos, and creative media you receive with the entries can be transformed into content to be shared across your social media channels. Think of it as killing two birds with one stone. You get valuable leads and user-generated content, and they get to win an awesome prize. It's a win-win situation 🙂
Creating a challenge is also a great piece of content for your dental social media campaign, this could be brushing your teeth twice a day for a week, flossing daily ( not the dance, rather the dental floss stick which removes plaque and excess food particles that you may not see in the mirror or in areas that your toothbrush doesn't reach.) no sweets or fizzy drinks.
Inviting someone or accepting the challenge, then posting these photos or videos on to your social media platforms will definitely engage and make your dental practice go viral.
4) Facebook Live
To effectively market your dental practice, you need to be where your patients are, which is on social media.
A strategy for your next dental social media campaign could be live stream. Facebook Live is one of the most popular ways to stream live content. Followed by other platforms such as Instagram, and YouTube.
You can use live streaming to update followers on news as it happens, tips on dental care, Q and A's, a practice tour, review a dental care product, conduct giveaways and contests, interview guests and influencer's, or simply make followers feel personally connected to your dental practice.
By setting a day and time to start your live streams, your followers will have something to look forward to and before you go on with your live streams, build hype around it.
You can also merge with another dental practice and join a live stream together, this will give you both to discuss important topics, tips or even go the extra mile to give free checkups. This will make more of your followers join your live steams.
People feel more connected when you acknowledge them. Call your patients or followers by name and answer their questions when you are live.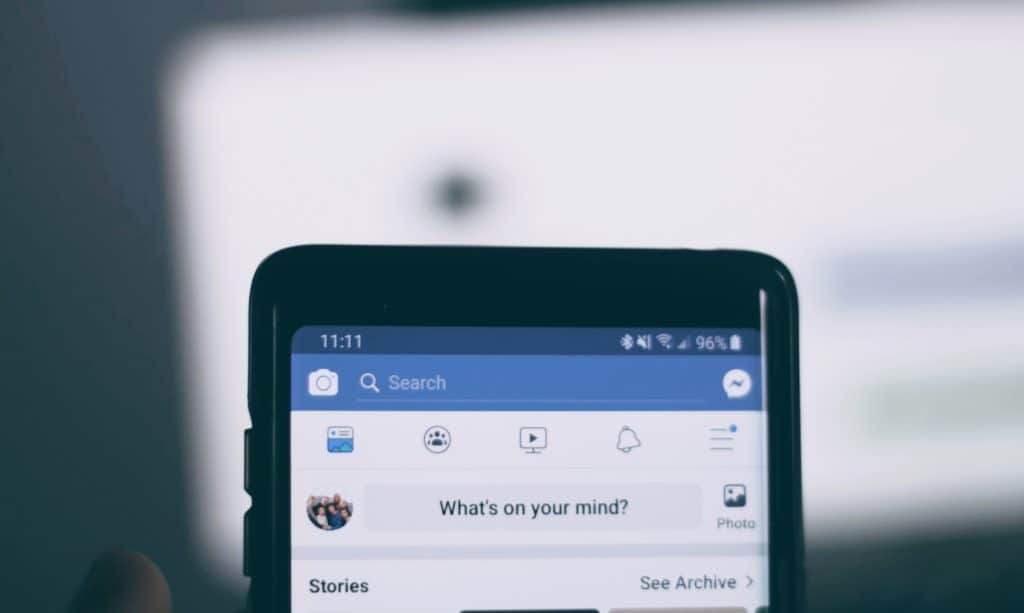 Once your live stream is complete, the video will post on to your dental Facebook page just like your regular videos. This means that your followers can continue to engage with your video and ask questions even after the live stream is completed.
You can also boost your video with ads. And here is the main fun part, your followers can SHARE your video eventually making it go viral.
It's an easy, fun way to get your team involved in your social media efforts and create shareable video content that helps new patients find you.
5) Infographs
An infographic is 30 times more likely to be read than a purely textual article. Many people pay close attention to information with images. In fact, when the images are relevant, readers spend more time looking at the images rather than they do reading text on the page.
Creating inforgraphs and educational dental content embedded with your dental practice logo and information, which is shareable for your dental social media campaign is a must as this will engage and retain your patients and attract new patients.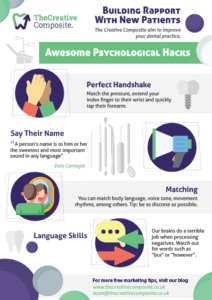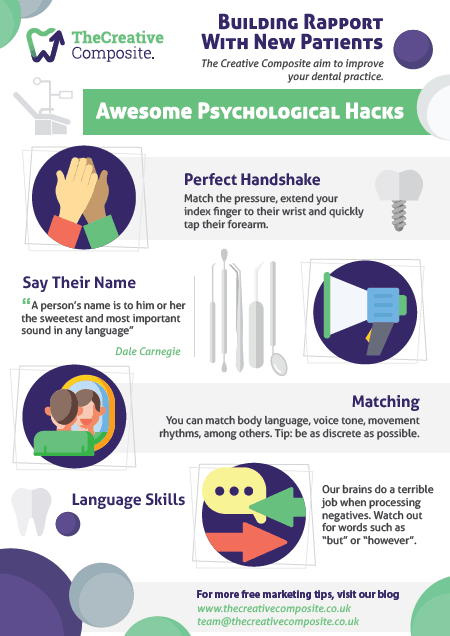 An example of this is the dental practice called Cheadle Village, as they have taken advantage of this dental social media campaign by creating infographics on top tips for dental health.
6) Instagram
Is your dental practice taking advantage of Instagram? Here is how to create your dental Instagram account.
Instagram is the leading social media platform where there are many benefits for your dental social media campaign. The majority of your young audience hang around on Instagram so to capture them there through your live streams, behind the scenes, before and after photos of patients, award events or charity events is the best place.
Some good topics to share include:
Oral health tips and product recommendations
Trending topics from major dental organisations
Feedbacks from your patients
Profiles of the dental professionals in your office
Posts that encourage patients to join the conversation, like a poll or an online contest.
The key to developing an engaging online presence is creating a balance of posts. For example, 30 percent of your posts can be original content that you create, 60 percent can be shared from other sources such as patients generated content and 10 percent might directly promote your practice.
An inspiration Instagram account to follow is by Dr. Toscano. With over 190k followers, what makes this page interesting is the type of content that's posted. Dr. Toscano posts images of celebrity patients, dramatic before and after shots, and personal bits about himself. Another great account is DR RHONA ESKANDER, @DRRHONAESKANDER with over 36k followers on her page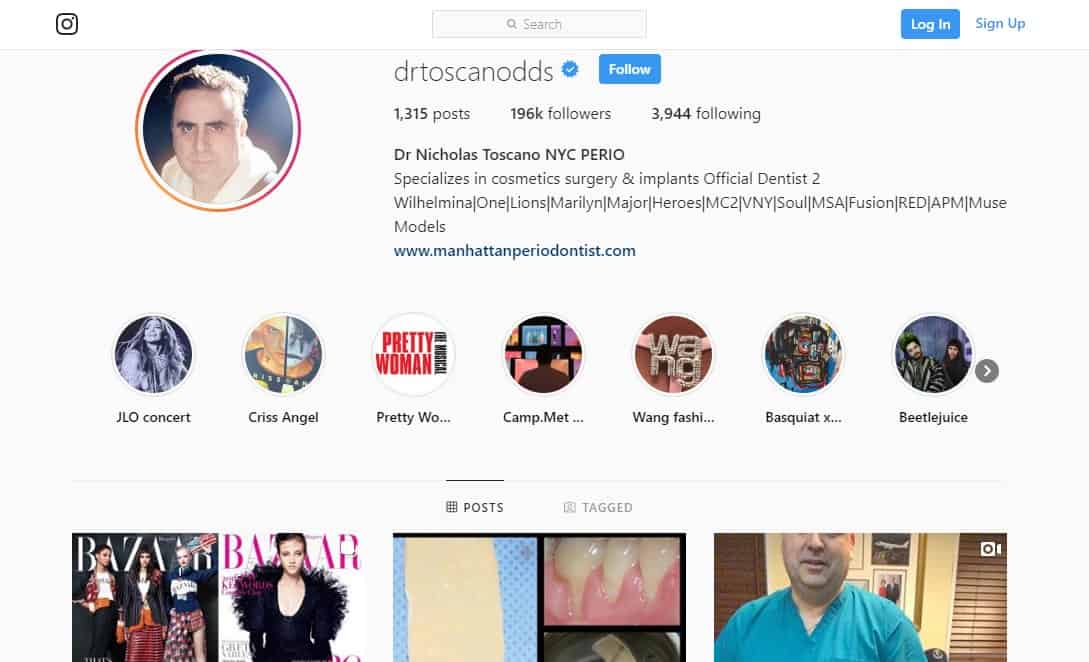 Conclusion
The main focus of your dental social media campaign is creating and building a relationship. By implementing these strategies with a creative attitude and a few goals in mind, you can use these powerful marketing campaigns for your dental practice to help you engage, inspire and educate current and future patients.
If you think that this is too much, do not hesitate to contact us as we have a specialised and a dedicated team who will be more than happy to help you.