Finding the best dental software can be daunting but using our guide, you will be able to choose the right management software for you.
Running a Dental practice can be stressful enough without having to worry about which management software to use. Having the right software can make all the difference between an efficient practice and a disorganised one.
It can be an extremely overwhelming process when there are a wide variety of options available on the market. We know your time is important; so, we've comprised a list of the best dental software available in the UK for you!
The criteria needed to make our list depended on 3 things;
Their website has the best information allowing you to make the right informed choice
4+ star reviews, and plenty of them
Must be GDPR compliant
Our list features all the information you need to allow you and your dental practice choose the best dental management software for you.
Bridge-IT from Software4Dentist is a feature-rich easy use dental software designed to help you: book appointments, manage patient records, record treatments and clinical notes, keep tabs on patient finances, oversee staff holidays and create informative reports.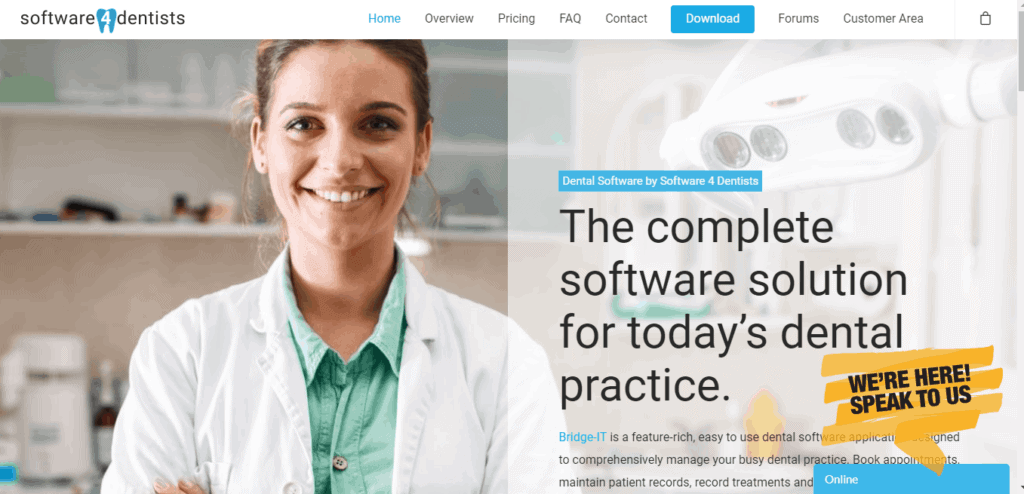 Price: princes start at £20 for one computer and go to £55 for the software plus £35 for each computer added to the software. They offer a range of add ons as well; such as a patient touch screen check-in for £295
Free Trails: 60 day
Cloud Vs. local server: The software is available as both local "in house" server or can be accessed on the cloud which is hosted on Software4Dentist secure cloud servers.
Training: Training is not provided but the software comes with a recommendation of a two-day training for £475 per day.
GDPR: Compliant
No Contracts
Support: support is available through email and telephone
EXact software from Software of Excellence (Henry Schein) provides a variety of features including; marketing manager, campaign+ and Channel tracking. Automated recall manager, utilisation manager. Workflows manager. Predictive UDA manager and Care Manager.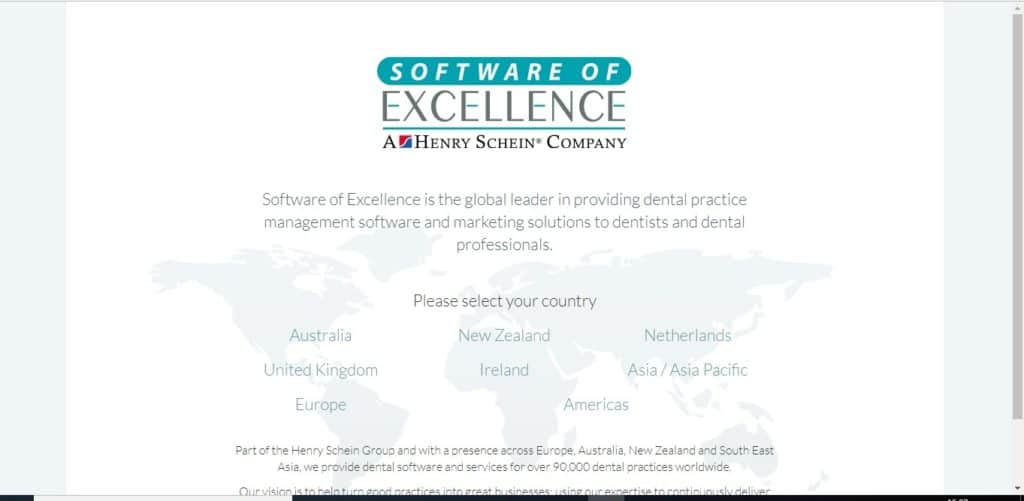 Price: Prices depend on the size of the practice
Free trial:
Cloud Vs. local server:
Training: Training is provided online with course available, the software also provides training days that all customers are invited to. The software also provides a variety of training tools.
GDPR Compliant
Contracts: Payments are made in monthly instalments, over the space of 12 months.
Support: each customer enrols on the customer success programme meaning you are assigned a dedicated "customer success consultant" who will work as a business partner via monthly calls and measure success through a KPI tracker.
Dentally advertise their products as easy to learn and use as being efficient. The dental software provides; data management, a diary, marketing tools, secure backup, automatic updates, clear reports on finance, patients, appointments and treatments. The dental software integrates with a variety of other programmes.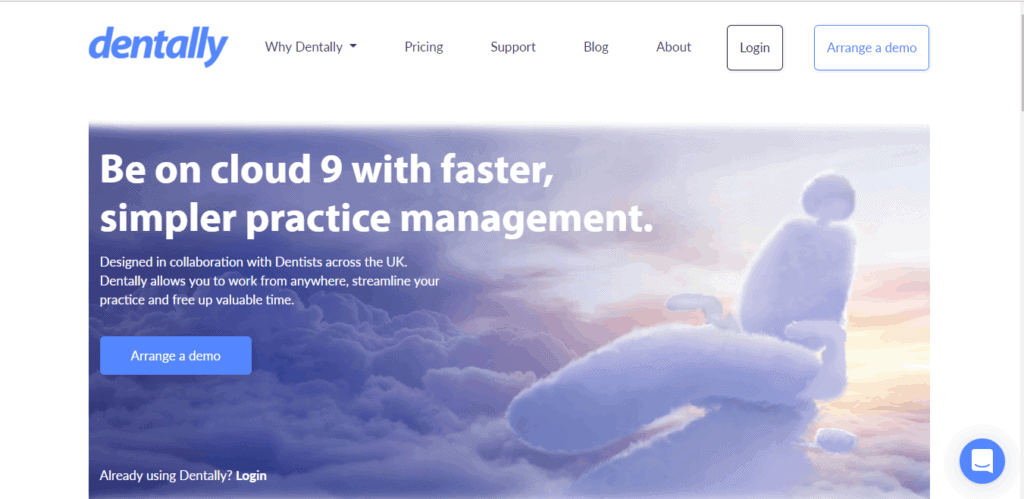 Price: basic price starts at £50 a month which includes 5GB of storage for up to 5 users. The next package up is at £84 per month which includes 50GB for unlimited users
Free Trial: 30 days of standard back age with some software limitations.
Cloud Vs. local servers: Cloud-based
Training: training as such isn't provided but Dentally provides an account manager to assist you.
GDPR Compliant
Contract: to have the software you need to pay a year upfront cost, in one annual subscription.
Support: Dentally has a phone number and email as well as online chat support.
Pearl dental software provides a quite simplistic dental software for your practice which includes patient records, diary, treatment plans, medical history, accounts and reminders.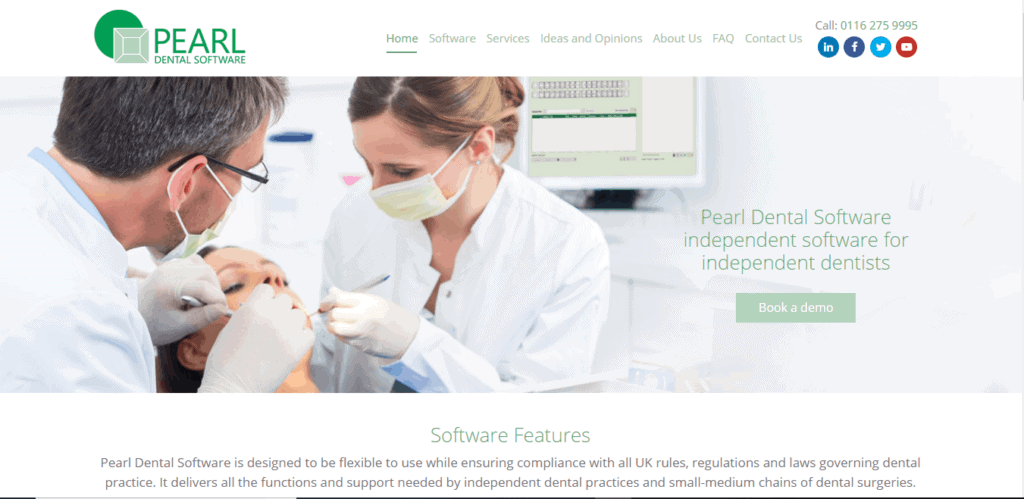 Price: Your first surgery is £71 per month which includes all the features, remote software support, full updates regularly and 2GB of Data hosting. For every additional surgery, it will cost you £26 per month per surgery.
This includes everything except extra support for the extra room. Onboarding is a required cost of £575 which is for data transfer and onsite training. Add ons are available.
Free trial: Demo booking is available through the website or telephone, time varies depending on the size of your practice.
Cloud Vs. local server: the software runs on both, it can be installed onto the PC however they have recently introduced cloud-based software.
Training: They do provide onsite training however, this is part of the onboarding cost.
GDPR compliant
Contract: There is no contract, the onboarding is the only upfront cost, payment is made monthly.
Support: Support is available through the company website and telephone.
Systems for Dentists is the 3rd largest dental software company in the UK. They provide appointment booking, medical history, patient details, clinical notes, periodontal charting. The software allows for integrated third-party software.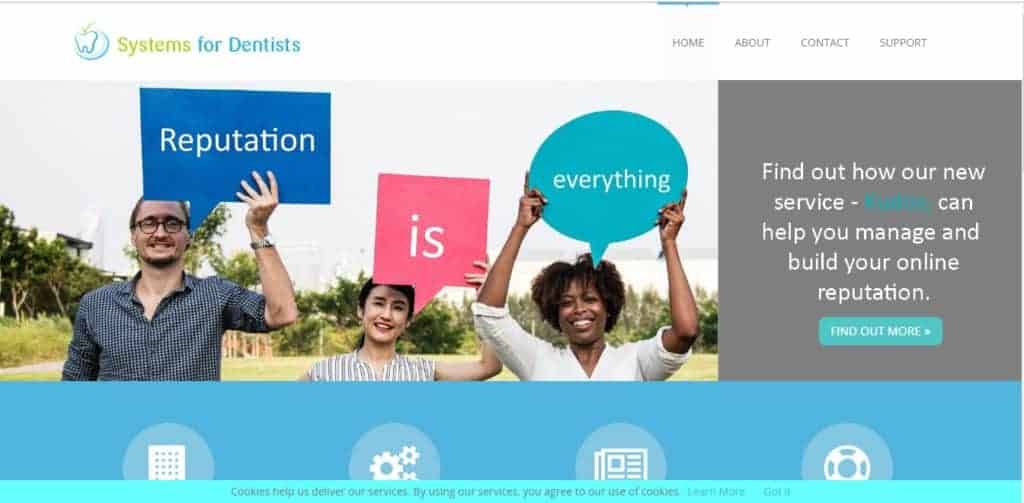 Price: Competitive prices which depend on individual practices, Systems for Dentist would not provide us with an exact price
Free Trial: No
Cloud Vs. Local server: Local server only.
Training: Systems for Dentists provide onsite training as well as online.
GDPR: Compliant
Contract: Practices will pay for the year, with the option to cancel after nine months.
Support: Available through telephone and email.
iSmile provide a huge variety of services on their dental software which includes; simple patient management, diary, automated SMS, email features and marketing features.
They also have an introduction video on YouTube for an online demonstration. The software integrates with most of the X-ray kits/software.
Price: there is an upfront cost plus £40 + VAT per month
Free Trial: 30 days
Cloud Vs. local server: A cloud-based server that is also compatible with mobile devices
Training: a specially trained consultant will be assigned to every practice
GDPR: Compliant
No contract
Support: The specially trained consultant will be on hand to provide any assistance
Shire Dental Software is robust and powerful Practice Management Software offering all the features required in busy practices. Suitable for Private / NHS Practices as either reception based or full-featured charting system.
Shire Dental offers exceptional value for money and is available as just software or with fully installed hardware.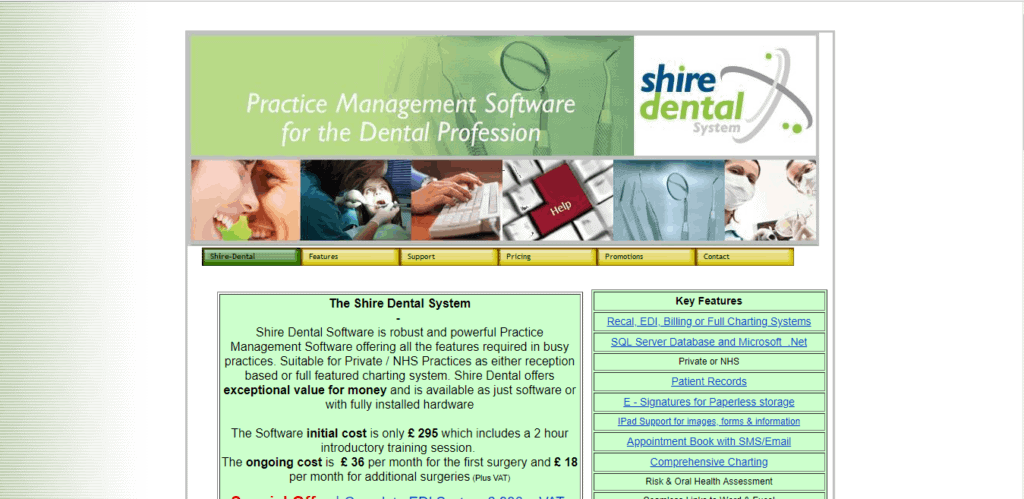 Price: software begins at £36 plus VAT per month for one surgery which includes full support and updates. It is then £18 extra per month for any additional surgeries. The software also has an installation and intro training session costing £295 plus VAT. A special offer is available which includes a complete EDI system for £836 plus VAT. Adds on are also available
Free trial: No
Cloud Vs. Local server: Local server, Shire dental will supply and install the hardware.
Training: Shire dental software provides training around the practice, online training is available, but the software company will provide other forms of training. They also provide online manuals for different sections of their software
GDPR: Compliant
Contract: Monthly payments are made for the initial software, any additional hardware bought comes with a monthly maintenance fee, prices vary depending on the type of hardware.
Support: Support is available via telephone and email as well support tickets online.
DentalPlus is dental software developed by Admor in the UK. It's the complete electronic software for your dental practice; bringing together all the tools required to manage patients and the day to day running of the practice easily and efficiently from your computer.
Manage appointments, create treatment plans, record clinical notes, complete medical forms, send reminders and recalls, create reports, manage NHS claims plus much more with Dental Plus.
This dental software includes; Comprehensive clinical module, Informative appointment book, Personalised medical history, Digital Signatures and Patient Self Check-in. The software can work alongside any other software.
Price: 1 Surgery £149 + VAT per month, 2 Surgeries £199 + VAT per month, 3 Surgeries £245 + VAT per month. After 3 surgeries it is an additional £21 + VAT for each surgery added.
Free Trial: A free demo is available to customers but Admor would not provide us with the length of the trial.
Cloud VS. Local Server: The software is available for both cloud-based and server-based, the cost of the server is £25 per month which Admor will provide for you.
Training: Training is provided, one full day of training is provided before the launch of the software, as well as ongoing support throughout launch day.
GDPR: Compliant
Contract: Dental plus ties you into a one-year contract, with no upfront costs just the prices are shown above to pay.
Support: Support is provided through technical telephone calls Monday-Friday office hours, email support and remote assistance. Out of hours email and voicemail support. 2-day cloud back up is also provided.
Conclusion
Every practice needs the right dental software providing the best service for your practice. All of the above dental software provides excellent service for your practice; using our guide you will be able to find the best software suited for your business.
Now you've picked the best dental software for your practice, why not learn more about how a CRM can benefit your dental practice by improving your sales pipeline and booking conversions.