Single Tooth Dental Implant Prices – UK and Regional
Single Tooth Dental Implants are used for people who are missing one or more teeth. Similar in the way that Invisalign treatments are an alternative to metal braces, Dental Implants are also an alternative to other ways of replacing missing teeth such as dental bridges or dentures.
One of the main reasons that people choose to have dental implants Is because high-quality dental implants can last a lifetime. They also place less of a burden on surrounding teeth and promote the healing of bone structures and gums under the teeth. This is different from dental bridges and dentures as cost effective as they may be for replacing missing teeth, they can put great strain on other teeth and reduce bone levels.
Our team did some research into the prices of a Single Tooth Dental Implant across multiple regions around the UK. The infographic below shows the different prices for a single tooth dental implant in these major cities.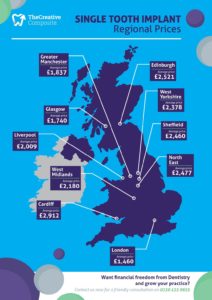 The order of these prices are as follows:
Cardiff – £2912
Edinburgh – £2521
North East – £2477
Sheffield – £2460
West Yorkshire – £2378
West Midlands – £2180
Liverpool – £2009
Greater Manchester – £1837
Glasgow – £1740
London – £1460
Conclusion
Interestingly, London was 10th on this list at £1460. Cardiff was 1st with £2912, a significant difference of £1452. This is totally the opposite of our Invisalign Average Price Infographic results.
This falls significantly below the average of all 10 of these cities which is £2197.40. There is no discernible pattern to these figures however, it seems as if the larger cities charge a lot lower than other cities. This may be due to the fierce competition the dental practice must be facing and hence, most begin competing on price.
We did notice from the 30 dental practices that we contacted, the dental practices that charged on the premium side had active social media accounts, a well designed and modern website and much more of a human feel online. We also noticed that heir receptionists had a polite and friendly manner.
This shows that practices that invest in marketing more, attract more patients and therefore can charge a premium for their service. It would make business sense to this to recoup their investment but we speculate that these dental practices will also have more referrals than most.
It is important to know the demographics of the treatment as knowing this will allow you to devise a dental marketing strategy to give your patients the treatments that they would want.
What's next?
If you would like a profitable dental practice that can invest in its team and practice, improve customer service, charge more and still be a leader? We can help you!
Please feel free to contact us to speak with our friendly team who are more than happy to assist you.